TAKE AIM WITH LEAD
By Keith Wayne, President & CEO
Some of us grew up shooting for sport, others are learning as an adult. Learning how to shoot at a moving target, such as a fast-flying bird or a clay target involves, what is referred to, as taking aim with a "Lead". Simply put, this means to pull ahead of the target such that the time taken between your trigger pull and the flight of the shell load reaching its target, will deliver the shot to where the target will be. Any good wing shot will attest this takes considerable practice, because it involves good judgement of the conditions.
The challenges of shooting a shotgun at a moving target in many ways resemble the challenges of developing business strategies. Just replace target speed, wind direction, shotshell ballistics with the business lingo of target markets, economic cycles, labor statistics and resources. Every industry may have different variables, but there will undoubtedly be factors to consider when trying to take aim.
READ MORE (2 MIN READ)
LASER SCANNING ADDED TO DIGITAL TOOLBOX
By Ryan Barker, CM-BIM, Virtual Design Manager
We have come a long way from the days when data collection on a Jobsite only meant grabbing your trusty tape measure and field book to record dimensions. While the tape, auto level, theodolite, and robotic total stations all remain essential tools for layout and data collection, laser scanning gives us a new level of precision and speed when it comes to recording the physical world. Wayne Brothers Virtual Design & Construction (VDC) group is proud to now offer Laser Scanning service.
How it works
Like the way a total station uses electronic distance measuring (EDM) to measure the distance from a prism, a laser scanner uses a laser beam to measure the distance from everything around it.
READ MORE (2 MIN READ)
We did it again! We hit over 1 million hours without a lost time accident. 
A sincere congratulations goes out to those individuals in the field who continue to work safely every day and who we owe this achievement to.
Keep Safely Exceeding Expectations!
SEE PICTURES
By Eric Kesler, IT Director
Construction technology is entering a golden age. The conventional wisdom of the past several decades held that the pace of tech adoption in construction was among the slowest and most reactionary in the world. Any number of internal and external factors were blamed: the cost of adoption, the difficulty of changing processes without impacting deadlines, the lack of industry-specific solutions. Construction was not interested in tech, therefore tech was not interested in construction. 
Pushing against this headwind to "Pioneer Proactive Solutions" has always been a part of Wayne Brothers' DNA. Now, in 2023, that wind is now at our backs. The market that once struggled to provide convincing products and services is now saturated with options, and today our challenge is not in seeking out any viable solution, but in finding the correct solution for our teams among a constellation of offerings. 
READ MORE (2 MIN READ)
TRAINING WITH ADVANCED TECHNOLOGY
By Jim Rhodes, Vice President Civil & Infrastructure
As we continue to work towards scaling our training program and leverage technology, our next improvement will include first person videos and virtual reality sessions.
As you can see by the screen captures below, we are able to mount 360 degree cameras in the cabs of the equipment that will allow for a first person view of what is going on in and outside the cab..
What these screen captures don't show you is how, when wearing a VR headset, the training user can look in any direction and see exactly what the operator would be seeing if they turned their head.  That would include the machine being loaded, in the case of the excavator, or the windrow on the blade in the case of the motorgrader or the haul path in the case of the off road truck, among many others.
We're working hard behind the scenes to improve our training experience.  Stay tuned for new developments and training rollouts coming soon.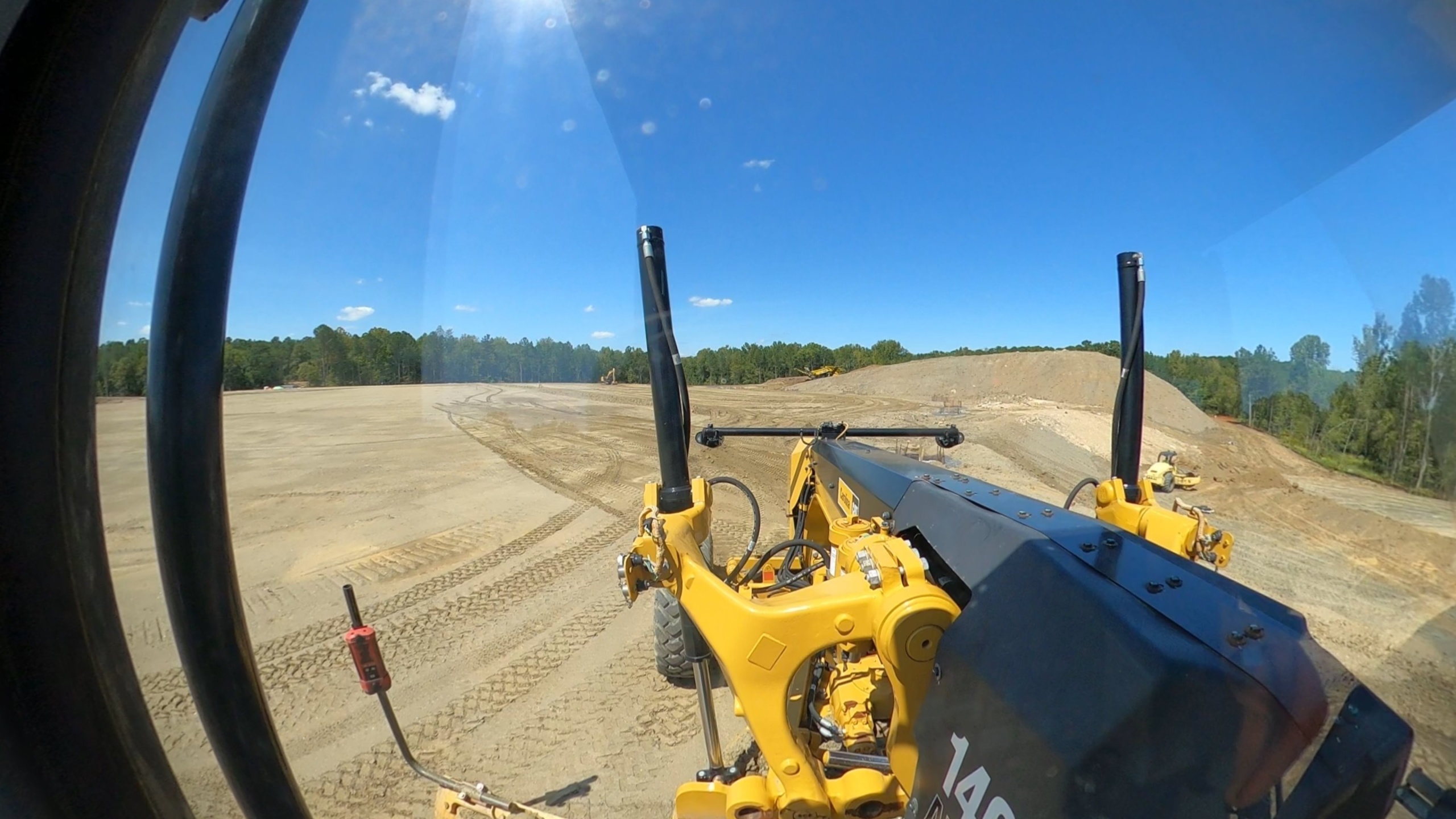 These employees are being recognized by a coworker for going above and beyond.
Daniel Honeycutt
Jimmy Swanner
Melissa Newsome
Jason Mauney
Ryan Barker
Michelle Smith
Mark Goodman
Nick Reese
Kevin Morris
Henry Rodriguez
Noe Saravia
Isaiah Scott
Anthony Peoples
Shawn Reaves
Stanley Simmons
Steve Smith
Greg Jouben
Dave Hendershot
Keith Bryant
Val Chavis
Tucker Justice
Hunter Jones
Richard Smith
Levi Harrington
Murray Graham
Kyle Hopkins
Dave Lloyd
Britt Hull
Rob Pasour
Katy Roland
Charlie Lily
Amanda Roberts
Tom Champlin
Doug & Ariana Francavilla welcomed baby boy, Ronan James Francavilla 9/24/22
Chris & Logan Robertson welcomed baby boy, Brooks Michael 9/29/22
Mark & Teresa Goodman welcomed a new Grandson, Luke Preston Goodman
Stanley & Detra Simmons welcomed baby girl, Zoey Isabella 10/24/22
Andrew & Bella Merwin welcomed baby boy, Hunter Andrew 10/27/22
Shawntel & Chris Brown welcomed their 1st Grandson Ny'sir Rodgers
Joe & Madeline Rebrovich welcomed baby boy Briggs 12/3/22