ELEVATING TRAINING
By Jim Rhodes, VP of Civil & Infrastructure
When I started at Wayne Brothers, one of the first things that I noticed was how valued training was.  Every other Thursday afternoon, our Grading Group would stop work around 3 pm and come to the main office for some form of training.  Sometimes it was safety, other times it was operator training and other times, it was one of our levels one through three of civil training that we still teach today.
There were only about 15 to 20 of us in the Group back then and we all worked local, so it was easy to coordinate and execute training.  Well… that training paid off and we grew.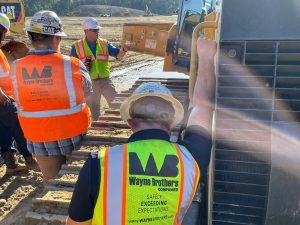 Now we have hundreds of people across many different regions, with a need to train on a variety of skills from craft competencies to best practices to leadership (and many more).  But it's harder now.  There are more schedules to coordinate.  There appears to be fewer hours in the day (even though I am told that isn't true) and we are more spread out than ever.
So, what's the game plan on how to keep engaging and training the way we always have?  That's a complicated question, but one part of the answer just got easier for us.  In person classroom training still requires curriculum to be developed and discipline to gather people and deliver it.  Field training still requires master trainers, fuel for equipment, and the time to teach.
But digital learning that is self-paced, interactive, and measurable just became a lot easier.  The BuildWitt Training Platform is what we have been trying to create, internally, for years… without much success, I might add.
BuildWitt has created a platform that allows learners to follow learning plans, courses and lessons that can be curated specifically for each individual learner or group.  BuildWitt has produced hundreds of videos that teach everything from equipment inspections to leadership at the highest levels.  This will be our effort to get us all back in that same room that we used to train in 20 years ago.
BuildWitt's platform also allows us to build out our own library of training videos.  We will produce our own content that includes: leadership, culture, behaviors, lessons learned, on boarding, best practices, specific craft competencies and exciting company announcements, among many others.
We are one of the "First 100" users of the new platform.  The piloting of this platform is underway on one project and if all continues to go well, it will be making its way to many more projects. We're excited about all being in the same virtual training room again, as was the case in person, years ago.